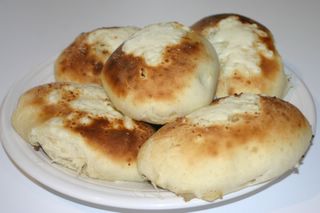 runzas

This recipe was in our Methodist Church Cookbook and submitted by Betty Sheaff.
These were called Cabbage Rolls of Krautburger but very similar recipes often call these sandwiches Runzas.
DOUGH:
3 PKG active dry yeast
3/4 c warm water
3 c milk, scalded
3/4 c shortening or buter
3 tsp salt
11 c flour
3/4 c sugar
3 eggs
CABBAGE FILLING:
1# hamburger
1 lg onion
1 10 ounce can kraut or cut-up cabbage
Dissolve yeast in water. Combine milk, sugar, shortening and salt and cool to lukewarm. Add 11/2 cup flour and beat well. Beat in 3 eggs and moistened yeast mixture. Gradually add remaining flour to form soft dough, mixing by hand. ( I used my free-standing mixer with a dough hook). Place dough in a greased bowl, turning once to grease surface. To make cabbage rolls, do not let dough rise. Cover and chill for atleast 2 hours or up to 4-5 days. ( I chilled the dough while I made the filling-less than 2 hours) Prepare cabbage roll filling by browning hamburger and onion together along with the cut-up cabbage.(I added 3 cloves of garlic) If using kraut, combine with cooked hamburger and onion. ( I seasoned mixture with worchestershire sauce, salt, pepper, onion powder, and garlic powder.) Roll dough and cut into 6" squares. Place cabbage roll mixture in center of shaped dough and fold dough around meat mixture and press loose ends together. Grease tops and lay out on greased baking sheet. I sprinkled tops with kosher salt. Puncture tops with fork a couple of times. Bake at 425 degrees until lightly browned on top and bottom. After they were done, I sprinkle mozzarella cheese on the tops and cooked them for 2 minutes under the broiler.