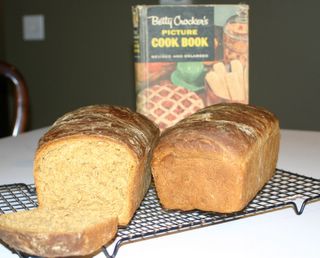 Oatmeal Molasses Bread

I found this recipe in a 1956 Betty Crocker's PICTURE COOK BOOK that I found for $.25 at a garage sale last summer. It has some great casserole and cakes recipes as well as yeast bread recipes like this one. I love this recipe since the dough requires no kneading and it only requires one rising. It is very quick for a yeast bread recipe. The results are a very moist and nice dark colored loaf. We made egg salad sandwiches for lunch using this bread.
OATMEAL MOLLASSES BREAD
Moist, delicious, and crusty! Made without kneading.
Stir together in mixing bowl...
1 1/2 cups boiling water
1 cup rolled oats
1/3 cup shortening
1/2 cup light molasses
1 T salt
Cool to lukewarm.
Combine, stirring to dissolve...
2 pkg active dry yeast
1/2 cup warm water(not hot-110 to 115 degrees)
Stir into lukwarm oatmeal mixture. Mix well.
Add...
2 eggs
5 1/2 cups sifted flour
Mix thoroughly. Cover; let stand 15 min. Place dough in 2 greased 9x5x3" loaf pans and pat into a loaf shape. Let rise in warm place until double (1 1/2) hour ) bake until brown
Temperature: 350 degrees (mod oven)
Time: Bake 1 hour
Amount: 2 loaves