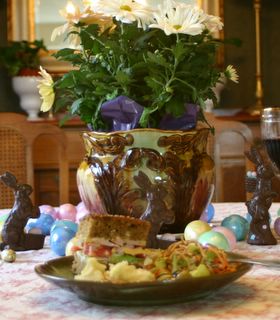 Easter Lunch

SPRING DINNER SALAD
Dressing:
3 T honey
1 1/2 tsp rice wine vinegar
1/4 cup mayo
1 tsp Dijon mustard
1/4 tsp olive oil
place ingredients in small bowl and beat until smooth. Refrigerate until serving time.
3 cups chopped Romaine lettuce
1/2 cup chopped green cabbage
3 med carrots shredded
1/4 cup chopped red onion
2 T. sliced almonds
1/3 cup chow mein noodles
Toss Romaine, cabbage, carrots, and red onion together and place on serving plates. Sprinkle with almonds and chow mein noodles. Drizzle desired amount of dressing on top of salad.
GIANT FOCCACCIA SANDWICH
I make this impressive and easy giant sandwich often.
The sandwich can filled with about anything. This is one of Lori's Recipes in the Church Cookbook.
Oat Foccaccia:
5 1/2 cup flour
1 cup oats-I use old fashioned
2 pkgs active dry yeast
2 tsp salt
2 1/4 cup water
1/2 cup molasses
1 T butter
1 egg,lightly beaten
1 T dried minced onion
1 T sesame seeds
1 tsp garlic salt
Sandwich filling:
6 T. mayo
2 T. mustard
lettuce leaves
1 pound thinly sliced fully cooked ham
6-8 slices of Swiss or cheddar cheese
4 red onion silces separated into rings
1 med green pepper sliced thin
2 med tomatoes sliced thin
In a large mix bowl, combine flour, oats, yeast, and salt. In a saucepan, heat water, molasses, and butter to 120 degrees. Add to dry ingredients; beat until moistened. Place in a greased bowl; turn once to grease top. Cover and let rise in a warm place until doubled about 45 minutes. Press dough onto a greased 14-inch pizza pan. Cover and let rise until doubled about 30 minutes. Brush with egg. Sprinkle with onion, sesame seeds and garlic salt. Bake at 350 degrees for 30 to 35 minutes or until golden brown. Remove to a wire rack to cool. Split foccaccia in half horizontally and spread both cut sides with mayo and mustard. On bottom half, layer lettuce, ham, cheese, onion, green pepper and tomatoes. Replace top half. Chill until serving.
POTATO SPREAD with GARLIC, LEMON, and OLIVE OIL
Scot made this delicious spread for an appetizer. We served it on whole wheat crackers.
This is a Greek spread skordalia (skor-dahl-YAH). It is made with ingredients that are usually on hand. Baking potatoes in the microwave turns their skins leathery, but here the skins are removed after they are baked. The microwave cooks the potatoes in just 10 minutes, so if you prepare the other ingredients while the potatoes cook, this can be ready in about 15 minutes. Serve as a dip with toasted pita or savory bagel chips. Russet potatoes will turn gummy when pureed in a food processor so mash them with a fork, then switch to a small whisk when adding the chicken broth.
2 or 3 medium russet potatoes
2 large cloves of garlic minced
1/2 tsp salt
Ground black pepper to taste
2 T juice from 1 lemon
1/3 cup olive oil
1/2 cup canned chicken broth
1. Cook the potatoes in the microwave on high power until soft, 10 to 12 minutes. Holding the potatoes in an oven mitt, peel or peel when cool enough to handle.
2. Mash the potatoes with the garlic, salt, pepper, lemon juice, and olive oil. Whisk in enough broth to make a soft spread. Transfer to a serving bowl; serve at room temperature.