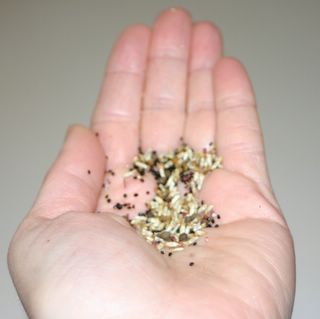 Garden Seeds

HERE in a quiet and dusty room they lie,
Faded as crumbled stone or shifting sand,
Forlorn as ashes, shrivelled, scentless, dry--
Meadows and gardens running through my hand.
Dead that shall quicken at the call of Spring,
Sleepers to stir beneath June's magic kiss,
Though birds pass over, unremembering,
And no bee seek here roses that were his.
In this brown husk a dale of hawthorn dreams,
A cedar in this narrow cell is thrust
That will drink deeply of a century's streams,
These lilies shall make summer on my dust.
Here in their safe and simple house of death,
Sealed in their shells a million roses leap;
Here I can blow a garden with my breath,
And in my hand a forest lies asleep.
Muriel Stuart
I finially sent off my seed order; It took me so long to decide. I ordered way more seed than I need; but it is too hard to decide!! Everytime I went back through my list and then the catalog with intend to eliminate something from my list, I ended up adding to it instead. So to stop the torture, I sealed the envelope shut and took it to the post office. I will be in need of a mountain of milk jugs to sow all those seeds!!
My Seed List:
ROSEMARY Rosmarinus officinalis
WINGED TOBACCO 'DAYLIGHT SENSATION' Nicotiana alata
BEARLIP PENSTEMON Penstemon barbatus
CASABLANCA Delphinium x belladonna
COMPACT PETUNIA Petunia hybrida nana compacta rose or violet
GARDEN VERBENA Verbena hybrida white compact
MOROCCO TOADFLAX Linaria maroccana
FOXGLOVE Digitalis purpurea EXCELSIOR
GLORIOSA DAISY Rudbeckia hirta
HYBRID SAGE Salvia x superba
SUPERB PINK Dianthus superbus
DIVINE FLOWER Dianthus caryophyllus
WHITE-FLOWERED PINK Dianthus albus
GLOBE THISTLE Echinops ritro
WHITE CHAIX MULLEIN Verbascum chaixii album
PAINTED Salvia
COMMON COLEUS Coleus blumei RAINBOW MIXTURE
BABY-BLUE-EYES Nemophila menziesii
PURPLE MILLET Panicum miliaceum 'Violaceum'
SALMON PEONY-FLOWERED POPPY Papaver s. paeoniflorum
SPIDER FLOWER Cleome hassleranna CHERRY QUEEN or HELEN CAMPBELL
MARVEL OF PERU four o clock Mirabilis jalapa
HONESTY Lunaria annua purple or white
WINGED EVERLASTING Ammobium alatum
GLOBE AMARANTH Gomphrena globosa mixed or white
ROSE SUNRAY Helipterum roseum
PAINTED-TONGUE Salpiglossis sinuate
MAIDEN PINK Dianthus deltiodes RED
SMALL YELLOW FOXGLOVE Digitalis lutea
MOLDAVIAN BALM DRAGONHEAD Dracocephalum moldavica
ROSE CAMPION Lychnis coronaria RED PURPLE